Here's some more things I found in the vintage suitcase from the closet. I think I may be through all the pictures. Now to go through all the clippings and letters!
This is my mother at age 20.
This is a corsage I found preserved from a dance in the vintage suitcase I'm going through. How cool is that!
This is my mother at age 7 playing in the snow. It appears to be across the street from the house where she grew up! Isn't this great!
This is from a newspaper article about the cheerleaders at her high school, which of course, features my mom. She also played basketball, field hockey and swam!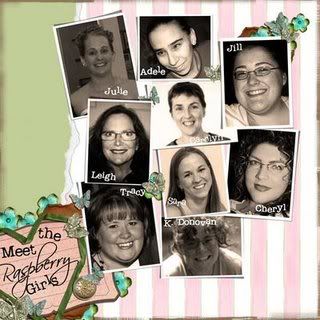 Credits: All papers and elements from the Heirloom Garden Collection by Raspberry Road Designs with the exception of a few elements taken from various Raspberry Road Designs Collections and the Inked Edge Overlay from the Overlay Collection Vol. 1 by Kris Myers. Template by Yin. By Cheryl, a Rasberry Girl.
Just click on the photo and you will go straight to the RR Girls' CT blog!
I really feel lost without my laptop. It's so easy just to sit down on the sofa and go to it. Instead, I have to be in the other room now, away from the family, with non of my stuff. I'm so spoiled. To think that before this was the only way I got on the computer, and it never bothered me then!
We are supposed to share a quirky fact about ourselves and do a lo about it using our favorite kit from Cottage Arts. Let me tell you my quirky fact: I will not drink milk out of a plastic cup. I think it's disgusting. Only a glass!
I haven't been digiscrapping using this computer. All my pics for the most part are on the other one with all my kits and such. I don't have PSE on here. This is the kids computer! It's so hard not to scrap.
Of course, I could paper scrap, but it has been so cold and my bonus room is freezing with those attic dormers. Even though I have a ceramic heater up there, I'd have to wait until it warmed up. BRRRRR!!!