Lots of exciting things are happening at
Cottage Arts
. Some of them I can share and HAHA some I can't...yet. But it's worth the wait. Check out the

Bountiful Blessings Collaborative Pak. Just click on the banner!
While you are there, don't miss out on the new PhotoShop (PS 7 & Above) Actions and the Scrap.Templates1 Torn Edges & Frame. I used both of those in the lo's I posted today. I just love the absolutely rich colors in this kit!
And guess what...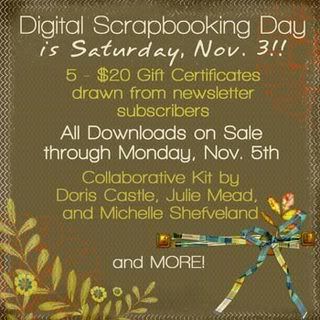 there's even more reason to head over over to Cottage Arts. If you sign up for their newsletter, you are eligible to win a $20 GC to their site on National Digi Scrapping Day, Nov. 3! Plus all downloads are on sale through Nov. 5!
And now on to Princess Lala's question of the day... What are five moments in your life you wish you could relive?
I have to be honest about that. NONE! God gives us one go-round. Every part of life is essential in our journey. Now, do I wish I did college in 4 years instead of 7...yes. Do I want to re-live it? NO! I'm lucky the first attempt didn't kill me. I kept my guardian angel very busy! LOL!
Maybe it's not the same for you. Several important people are no longer with me in this world, and I surely don't want to relive moments with them. That would make me too sad.
A friend of mine lives by the motto: No Regrets. I think it's a pretty good one. Don't look back. Always move forward.
That's all for today! Happy Halloween! (I will be raiding my kids stash for chocolate!)